One car is a RJ Race Cars chassis with Buck power and an automatic trans and piloted by Jay Cox.  This car qualified at he PDRA race at MIR at an impressive 3.691 at 201 mph!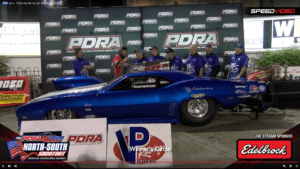 The other car is the beautiful ride of Randy Weatherford.  Jerry Bickel built this gorgeous machine using Musi power and a clutch.  Randy qualified right on Jay's heels at the same event at an equally impressive 3.696.  This run sets the new record for a Nitrous ProMod with a clutch!  Randy went on to WIN the event!!
What do these two cars have in common?
Profiler Wheel Speed Management!
Profiler Nation To The FRONT!
#profilernation
#itsjustbetter
#whenwilltherestfigureitout
[whohit] Weatherford/Cox [/whohit]