Davis Technologies is proud to work with this great team of people.  The truck is super cool, and fun to watch.  It used to be a little too exciting, as it had a tendency to try to flip over backwards !!  They installed a Profiler and got a handle on the power management and with the addition of the Wheelie Control Feature in the Profiler things really started to come around.  Congrats on a great weekend guys.
"SCSN13 was a huge success for us.  I wanted to thank you for always being there for us, the Profiler is truly amazing, can't wait to test the VPS."
Bruce McConnell
'        The Truck'
From Bruce's Facebook Post–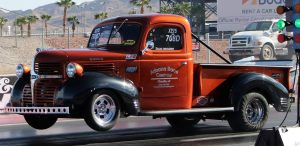 "SCSN 13 is over and was awesome! With an entirely new combo, finished up just in time (we fired it and loaded up with literally no testing). We exceeded all of our expectations, posted all runs in the 4.80-4.90 range (with short times in the 1.18s) on an extremely mild tune. This was also the first time we have and qualified in the top half of the field at #12!
I need to thank all of those that supported us. First thanks to my wife Dee McConnell for putting up with my ad…diction and always being there for me (us).
On track support was amazing with, Twila Andring & Troy Messina keeping our driver/tuner/builder Doug Driggers in the 'zone'. And a big shout out to Mike Hall for keeping us fed!
Those behind the scene include, Rob McCabe for his excellent fab work, Scott at CFE Racing Products for his help and advice on the new top end design, Michael Merrell at Turbos Direct for that incredible Garrett Gen-II and Shannon Davis for always being available for consultation on the his incredible 'Profiler' !"
(Photo Credit Steve Carlton- I think)
[whohit] The Truck [/whohit]